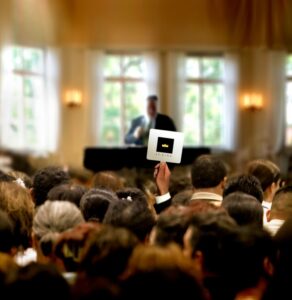 When it comes to real estate auctions, there are several firms to choose from. But as is the case with most things, not all real estate auction firms are created equal.
In this note, we want to highlight a few of the things that  J. P. King does differently from other real estate auction firms. You'll learn how we consistently create value for our clients by leveraging custom marketing campaigns, minimizing fees and costs, and so much more.
We also address some of the most common questions that we receive when it comes to buying or selling real estate with J. P. King.
3 Reasons to Choose J. P. King for Your Real Estate Auction
1.Cost-Efficient Strategies to Minimize Fees
J. P. King uses several strategies to minimize costs and fees for our sellers. Many other real estate auction firms require their sellers to pay additional commission percentages by listing their properties with real estate brokers.
At J. P. King, we don't require our sellers to have a broker, which means our clients are able to list their properties with J P King without incurring those additional fees. Since J. P. King has worked in all 50 states, we maintain Broker licenses or work with licensed affiliates to make sure your property is listed in compliance with correct license law, but without the unnecessary fees that can come with requiring brokers.
2.Effective Marketing Campaigns for Every Budget   
J. P. King doesn't just save you costs by minimizing fees. We also make sure you get the most bang for your buck by providing comprehensive marketing campaigns fit for every budget.
When you list a property with J. P. King, we leverage our expertise from over a century in this industry through our marketing department to create an effective marketing campaign custom crafted to fit every seller's individual budget.
Our commission is paid by the buyer, which means we have aligned interests to get our sellers the best possible price. This allows us to help you invest in a highly comprehensive marketing plan designed to get the most qualified and motivated buyers and attract them to your auction. Each marketing plan is produced on an individual basis and caters to each client's specific needs.
3.Generational Track Record & Legacy of Client Success
J. P. King was founded in 1915 by J. P. King, Sr., and has been owned and operated by members of the King family since the firm's inception. As a generational company, we have a long-term vision when it comes to operating with integrity and generating success for our clients. Unlike "churn and burn" volume auction companies who rely on a large number of transactions to generate profit, at J.P. King we are selective in the properties we represent. That's why we only take on properties that we feel we can be successful with for our clients.
As our president and CEO, Craig King states: "We believe you're only as good as your last successful auction. Maintaining our enduring legacy of integrity and success is critical, and has resulted in the high level of customer service we offer to our buyers and sellers."

Buying & Selling Real Estate with J. P. King | FAQs
How Do I Qualify for a J. P. King Auction?
When evaluating a potential property, the most important factor we look for is quality. Property in a good location that has been well-maintained and updated as needed will appeal to a broader buying segment and generate greater demand. As a seller, this will help your property appeal to a larger demographic of high-net-worth individuals and give you a better chance of fetching an attractive price.
To see if your property qualifies for a J. P. King auction, request a free consultation with us here.
How Much Would I Have to Pay to Market My Property with J. P. King?
Your marketing campaign investment can vary depending on a number of factors, including the property type, its value, the geographic location of the buyers we're trying to reach, and more.
Generally speaking, though, the investment for marketing your property with J. P. King will be around 1%.  Lower value properties may be higher.  For example, the marketing campaign for a three-million-dollar property would generally cost around $30,000.
Again, this cost covers a completely individualized marketing plan created for each client's individual property and goals and remember there is no seller paid commission.
Do I Need a Broker for a J. P. King Auction?
While J P King has worked with many leading brokers we do not require you to do so to do business with J. P. King.  Although, if you do have a listing agent, we will work with them, and they will be involved throughout the process.  J. P. King maintains licenses or works  with our licensed affiliates throughout the country so that you can sell your property without incurring additional expenses unnecessarily, as some firms require.
What is a Buyer's Premium for Auctions? 
A buyer's premium is a very popular commission methodology used in the real estate auction business. A buyer's premium means that the seller commits to sell the property at market value and the commission cost is borne by the buyer.
The buyer's premium percentage for each auction is determined by the property details and the location of the property. Bidders compete on a level playing field when it comes to the auction process.
How to Choose J. P. King for Your Real Estate Auction
Whether you're looking to buy, sell, or broker a real estate auction, J. P. King can help. As the most experienced real estate auction company in the United States, we take pride in providing buyers and sellers alike the highest level of service and professionalism possible.
To learn more about buying or selling with J. P. King, reach out to us today.