J.P. King Receives 2018 Main Street Alabama Award of Excellence for Architectural Design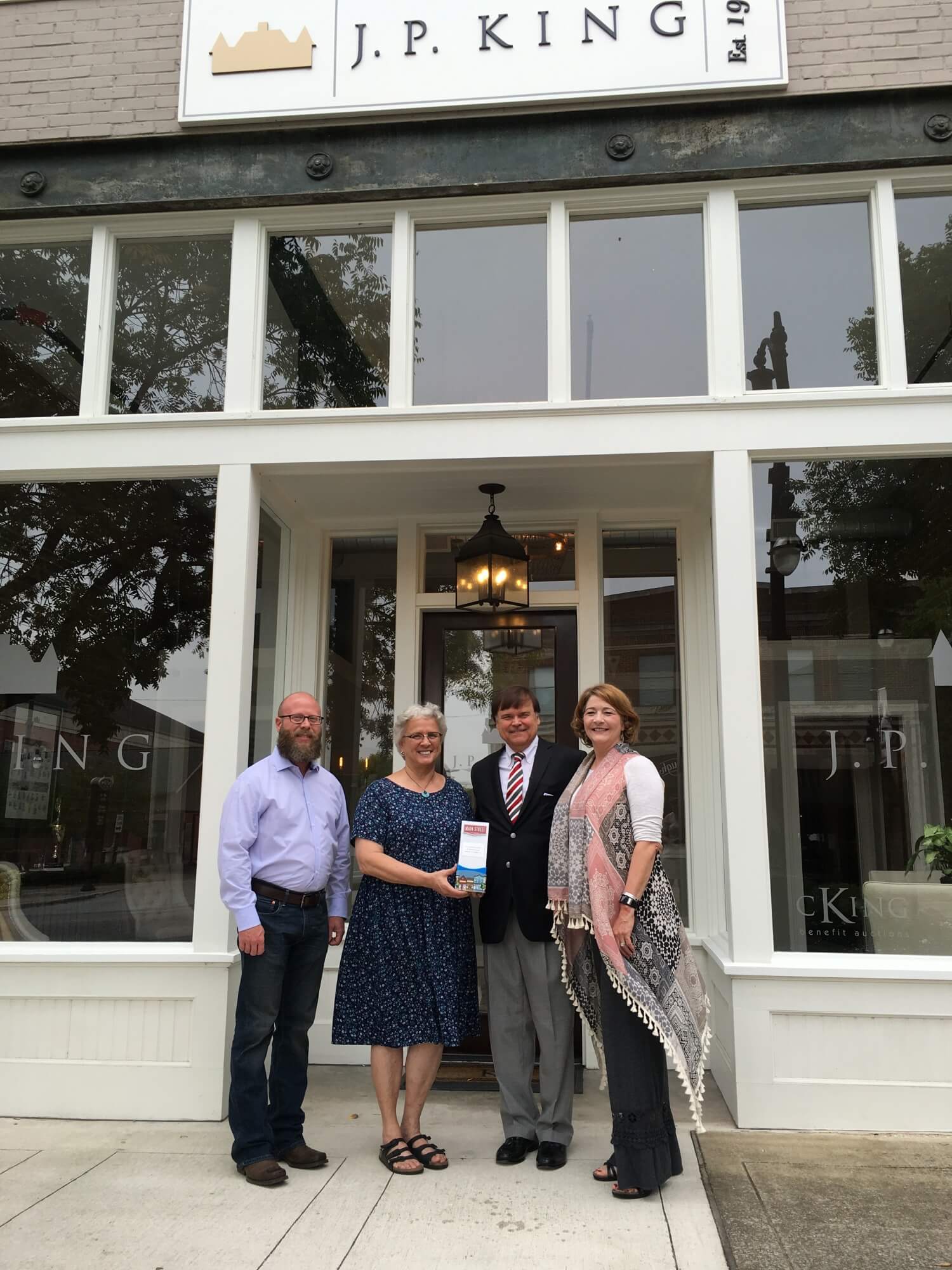 J.P. King's newly restored and relocated office building, located at 414 Broad Street in downtown Gadsden, has been awarded the 2018 Main Street Alabama Award of Excellence, recognized specifically for its architectural design. J.P. King's corporate offices occupy the first floor of the downtown historic building, and the second floor features three luxury loft apartments.
Craig and his wife Cindy purchased and began restoration in December 2016 with Architect B. Craig Lipscomb and Michael White Construction.
Craig King, President and CEO of J.P. King said,
"My wife Cindy and I worked closely with Craig Lipscomb and Michael White, building upon the architectural design and amenities, and adding "her creative touch." Some of our favorite elements are the antique doors repurposed from an old office building from Indianapolis, the lobby lighting, the old gas heater from the upper level used as a table in J.P. King's lobby and our massive conference table crafted from the building's original floor joists. The luxury lofts have the original hardwood floors and exposed brick with many interesting and nice upgrades including quartz and granite countertops, upgraded appliances and incredible lighting and fixtures. The front Loft has exposed beams and overlooks Broad Street. The city of Gadsden helped us with coordinating the state ad valorem tax advantage for an income generating building in a National Register Historic District. And now our corporate office is thriving in the heart of the city, the lofts are occupied by young professionals who enjoy the downtown lifestyle and we have a great team to share this award with, and we appreciate the recognition."
Main Street Alabama awarded 50 of 200 nominations to downtown organizations around the state divided into 10 categories. The organization stresses public-private partnerships, broad community engagement, and strategies that create jobs, spark new investment, attract visitors and spur growth. Main Street builds on the authentic history, culture, and attributes of specific places, to bring sustainable change.
Kay Moore, Director of Downtown Gadsden, Inc. said,
"It is exciting when a business decides to reinvest in our historic downtown, especially when it is a business that has been around for more than 100 years offering exemplary service nationwide. When Craig and Cindy King moved the headquarters of J.P. King Auction Company to downtown Gadsden, they worked with local architect Craig Lipscomb and everything was done according to historic standards. In addition to the new office space, they added three luxury loft apartments that will bring additional residents to the downtown area. We are excited to honor them with the Main Street Alabama award for Architectural Design and are extremely proud to have them in downtown Gadsden."
The King family is excited to be a part of all of the growth it's experiencing surrounding J.P. King. Cindy and Craig looked at several buildings in the downtown historic district and were interested in doing a restoration of a historic structure. When they had an opportunity to sell the former J.P. King office on Rainbow Drive they were pleased to have their chance at relocating J.P. King downtown.
"My granddad Leslie C. King, who also was president of J.P. King Auction Company, had offices on Broad Street about 50 years ago. Revitalization and economic growth are happening downtown and we are proud to be back here today" said King.