Gunnison Estate and Resort Sell at Auction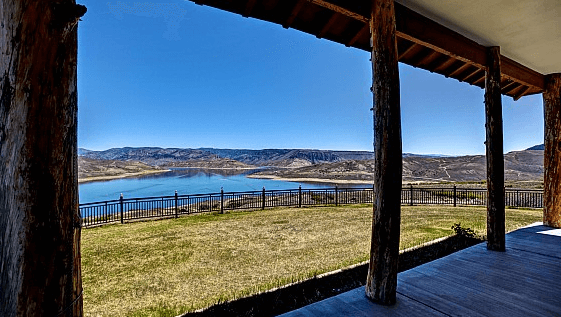 A 4,800 square foot estate and an investment resort property sold at a luxury real estate auction through J. P. King Auction Company on Saturday.
GUNNISON, CO. — At a real estate auction on Saturday, the Blue Mesa Hideaway and the Lake Fork Resort sold through J. P. King Auction Company, the nation's leading real estate auction marketing firm. The entirety of the property sold to Eugene and Michelle Pomeroy of Saguache, Colorado.
The auction brought 15 registered bidders from Colorado and Utah. The Pomeroys were also bidders for the Old Cow Town Ranch property that J. P. King sold last year. The 1880s reproduction town, located in the Pomeroys' hometown, included a saloon, main estate, dining hall, 10-room lounge and 10 other buildings.
The Blue Mesa Hideaway , however, is a Spanish-style estate situated on 171 acres. With 4,800 square feet, the home features four bedrooms and four bathrooms and offers 360-degree views of the Blue Mesa Reservoir.
The Lake Fork Resort , which was included in the property's entirety, is a 39-acre investment opportunity with six, one-bedroom cabins that sleep four to six guests and a two-bedroom manager's home. The property has not been in operation for several years. A five-acre parcel was also included in the auction.
Gil Barfield, the property's seller, said he purchased the home because, originally, it had always been a dream of his to own a property out West. After checking that off his "bucket list with a great home that has some of the best views you'll ever see", Barfield was ready to sell at auction.
"Several factors contributed to the number of serious bidders we've had at our auctions in the past few weeks," said Craig King, president and CEO of J. P. King Auction Company. The auction in Montana brought 10 bidders, while Saturday's auction brought 15. "For a property of this scale, that's a strong number, and I would attribute that to the quality of these properties and the absolute auction format. People will participate when they know the property will sell, and it brings buyers from all over the country, as we saw this week."