After Three Decades, Family Sells 579-Acre Venture Farms and Home at Absolute Auction through J. P. King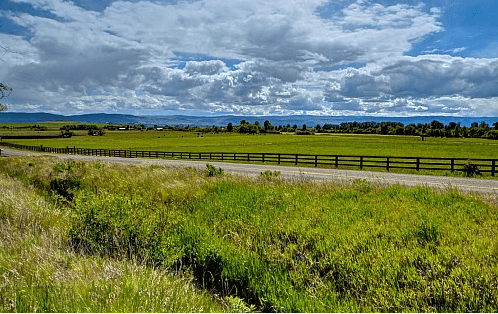 Ske and Jody Radomske sold their 579-acre Venture Farms, at an absolute auction through J. P. King Auction Company for $3.8 million
ELLENSBURG, WASH. — Overlooking the green hills and organic farmland of Venture Farms, 31 registered bidders gathered to bid on the property that was divided into 16 parcels. The property sold to four successful bidders on the September 12 auction for a combined price of over $3.8 million.
J.P. King Auction Company's extensive marketing campaign drew interest from five states across the Midwest and Pacific Northwest with 26 interested parties touring the property. The campaign also engaged over 35,000 people on Venture Farms's listing on J. P. King's website.
The 579-acre property with a ranch-style estate, located in Ellensburg, Wash., averaged $6,700 per acre.
Harland "Ske" Radomske moved to the property 33 years ago from Seattle because he "wanted to be a cowboy." Still owning a company in Seattle, Mr. Radomske later built an air strip and a hangar so he could fly into work every day.
And a cowboy he became, as he later married his wife, Jody, and started a family. Each member of the Radomske family earned regional or national honors in cutting. He also invested in cattle and organic farming.
The air strip is 2,200-feet and paved. Other improvements include an office, a mare motel, a 180×200 indoor equestrian facility, breeding barn, cattle corrals and facilities, a four-bedroom ranch home and three caretaker homes.