100+ Year Old J. P. King Auction Company Opens New Headquarters, Completes Historic Downtown Restoration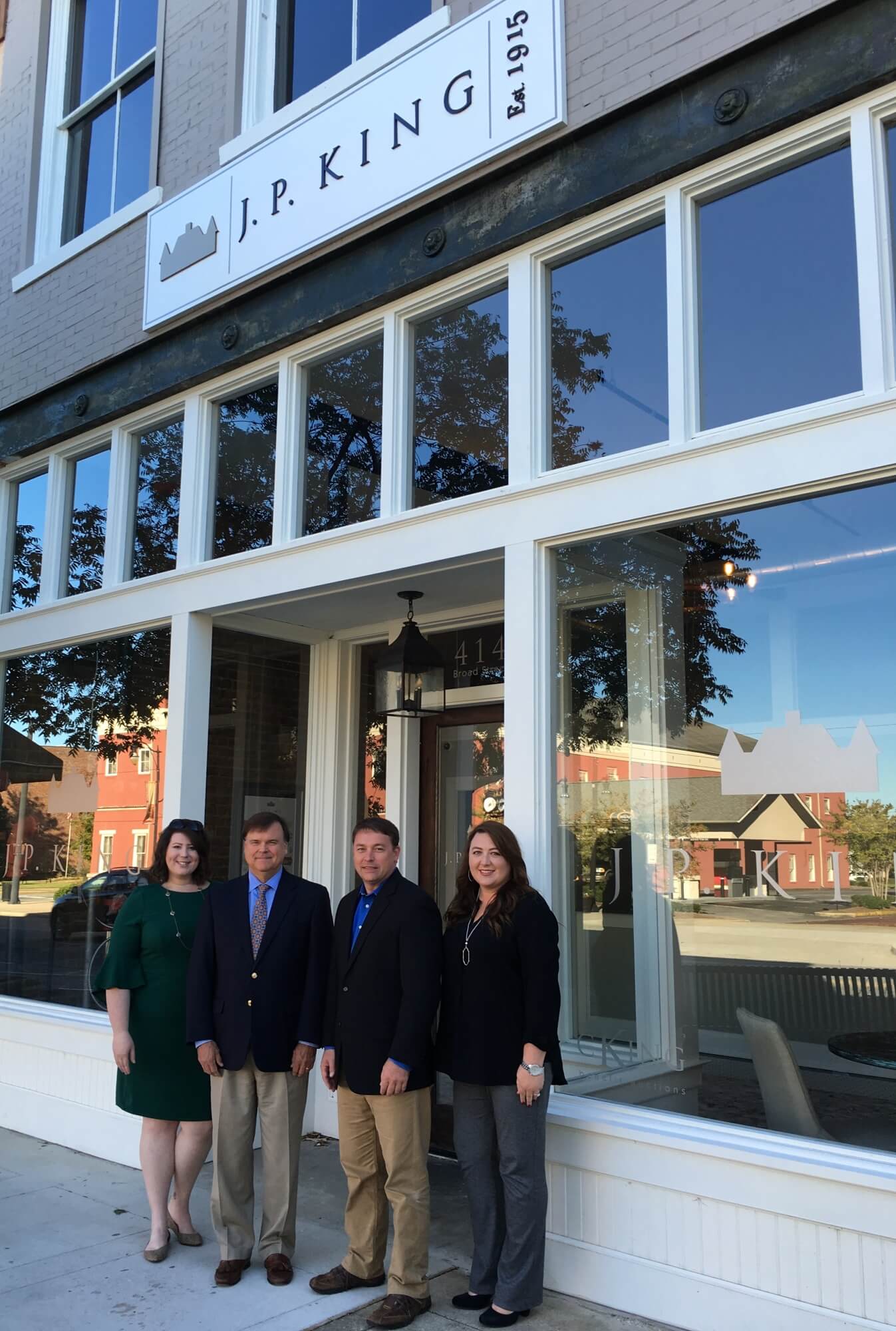 (Gadsden, Ala.) – What's old is new again with J.P. King Auction Company relocating to historically restored 414 Broad Street. Corporate offices will occupy the first floor, and the second floor has been repurposed for three luxury loft apartments. An open house will be held November 2, 11:00 a.m. – 1:00 p.m., for viewing the commercial floor and these newest loft apartments in the entertainment and business district.
"My granddad Leslie C. King, who also was president of J.P. King Auction Company, had offices on Broad Street about 50 years ago. Revitalization and economic growth are happening downtown. To support this growth, we decided to relocate our more than 100 year old auction company downtown and retain the architectural character of an historic building," said Craig King, president and CEO, J.P. King Auction Company.
Craig and his wife Cindy King purchased and began restoration efforts in December 2016. B. Craig Lipscomb was the architect, Perman Engineering Company, LLC, with Michael White Construction were the contractors, FuturePast was the historic tax credits consultant, and Danny Crownover provided historical documentation for the 6,250 square foot two-story, $800,000 rehabilitation in the heart of the historic district.
The National Register of Historic Districts lists the Gadsden Historic District as running along Broad Street between Third and Sixth Streets.
"With this restoration, building owners Craig and Cindy King took advantage of the state ad valorem tax advantage for an income generating building in a National Register Historic District. This economic incentive is working as it was intended – to promote business use in historic architecture and create modern utility in our existing cityscapes," said Linda Nelson, preservation consultant, FuturePast.
Constructed of red brick masonry, the building contains a recessed front entry with show windows. The second story windows are distinguished by stone jack arches with keystones. The façade is capped by a molded pressed metal cornice with console brackets at the sides decorated with acanthus leaves and lion heads in bas relief.
The interior first floor structural brick side walls have been left exposed and clear-sealed. The entry floor is black and white hexagonal ceramic tilework. On the second level, the original hardwood floor and plastered walls remain.
Recently, the City of Gadsden has invested in downtown revitalization to include installing new sidewalks, new lampposts, new iron benches, and beautiful landscaping.
"Investing in our downtown, and taking advantage of historic tax credits is good business" said Sherman Guyton, mayor of Gadsden. "I appreciate J.P. King Auction Company for participating in providing a walkable, livable, active and historic downtown with professional offices and restaurants next to residences and entertainment. This attracts young professionals as well as people at every age and stage to our city."
"Downtown Gadsden has an excellent collection of 19th and 20th century historic buildings which are undergoing rediscovery and rehabilitation. I encourage all who are interested in economic development to take advantage of these assets and also to investigate the historic tax credits available for them," said Danny Crownover, president, Etowah Historical Society.
The period of significance that gives the Downton Gadsden Historic District its character and importance is post American Reconstruction with late Victorian and early American commercial architecture, 1878-1948.
It begins in 1878, with the Kyle Opera House. In 1883, on the 4th of July, much of downtown burned down except the opera house, which was a three-story brick building whose fire wall saved the rest of the growing town from being destroyed. After the fire, wooden buildings were rebuilt in brick, beginning the present day streetscape. The historic period ends in 1948, when the 1890-constructed Etowah County Courthouse was demolished.
Before the 1883 fire, the original occupant of 414 Broad Street was Sam Powers Dry Goods. After the fire and by 1907, brick was used for construction with the site reported to be McCluney Dry Goods Co. Over the century, 414 Broad Street has housed various businesses including Brown's dress shop, and at the time of the Kings' purchase in 2016, was the corporate office of Frio's Gourmet Pops.
In 1997, the City of Gadsden gained listing for downtown on the National Register of Historic Places on the basis of commerce and architecture, and downtown economic development began to pick up again.