J. P. King Auction Company Steers Developer Close Out Auction of River Hills Ranch in Central Texas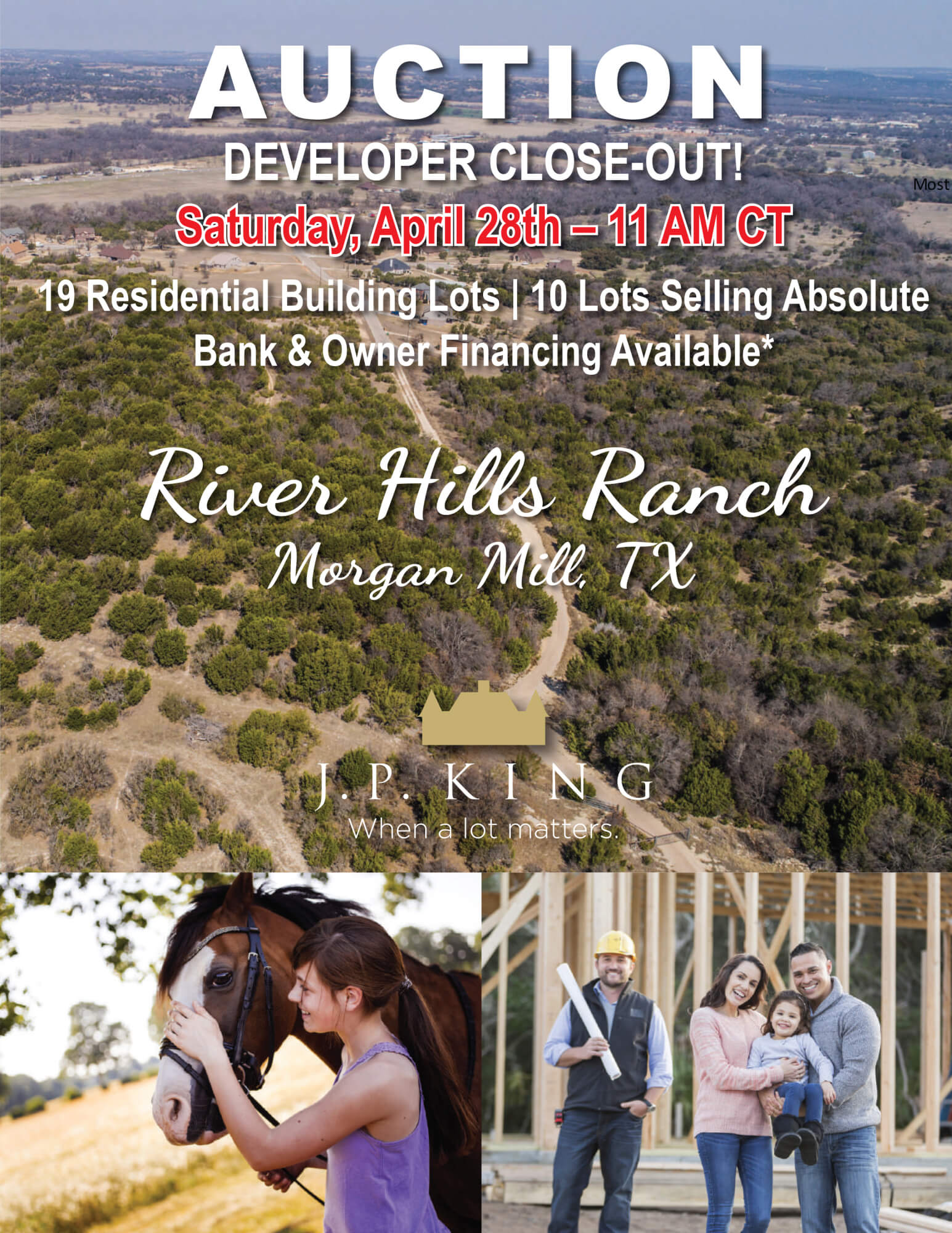 DALLAS, TX. (April 16, 2018) – With success in recent years throughout Texas, developers are turning to J. P. King Auction Company to assist them with selling their remaining inventory. This creates an ideal situation for all, allowing bidders to buy at auction prices and it enables developers to focus on newer projects and other ventures.
J.P. King Auction Company today announced a Developer Close Out of all remaining residential lots, with 10 lots selling absolute to the highest bidders at River Hills Ranch, an established and successful development, located in Morgan Mill, Texas. The auction will take place onsite at 11 a.m. CST on Saturday, April 28th.
Situated alongside gorgeous ranch vistas in the charming and desirable community of Morgan Mill, River Hills Ranch is selling 18 residential building lots with river frontage, creek water views and acreage on Paluxy River, a tributary of the Brazos River.
The property includes 7 river frontage lots, 2 lots along Live Water Creek and 9 remaining lots with stunning views and an abundance of trees and acreage; River Hills Ranch lots range in size from 2.07+/- to 14.00+/- Acres.
Settled in the small town of Morgan Mill, River Hills Ranch offers space to spread out and enjoy nature with breathtaking vistas of the surrounding countryside and within the reputable Morgan Mill ISD school system.
The vibrant community of Morgan Mill has all of the small-town charm immersed in a lush ranch-style setting and tranquil atmosphere. Located in Erath County, Texas, close to I-20, this stunning residential ranch development is minutes from Stephenville with great dining and entertainment, and approximately 1 hour from Fort Worth, 2 hours from Dallas, 1.5 hours from Waco and 2.5 hours from Austin.
"The beauty and the character are really what attracted me to this live water property. It really has the best of everything, with rolling hills, with great views and green pastures in such a desirable area. And when I decided to auction the remaining lots, J. P. King was an obvious choice. I have purchased property at their auctions and attended many of their events and because of that great experience, I wanted them to assist buyers at my auction as well," said client Andy Hansen.
The Auction will also include the additional offering of a 5+/- Acre Platted Subdivision with 21 lots in an attractive and established area near Stephenville High School; this property is selling as an entirety and is ideal for a builder or developer.