Lakefront Wilderness Dunes Home Sells at J. P. King Auction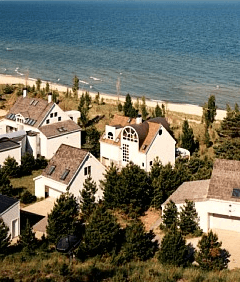 COVERT, Mich. — Overlooking the sandy dunes of Lake Michigan, J. P. King Auction Company sold Wilderness Dunes, a four-bedroom home with 100 feet of secluded beach frontage at auction on Thursday. The first property to sell in the exclusive, 130-acre subdivision since 2006, the home brought over $1.4 million at auction.
With clean, modern lines and views through floor-to-ceiling windows in every room, the home features two detached garages, high-end appliances and access to miles of shoreline. One of the 24 homes in the subdivision, Wilderness Dunes has views of the seagrass-covered dunes near the lake and colorful landscaping in the front of the home.
"Watching the availability and prices of such high-end vacation homes increase across the country is very encouraging for the luxury real estate sector," said Craig King, president and CEO of J. P. King Auction Company. "We're looking forward to continued success with sellers like this as the high-end real estate market continues to rebound."
J. P. King, who markets properties for auction nationwide has sold $19 million in real estate auctions in the state of Michigan, including waterfront developments and luxury estates.