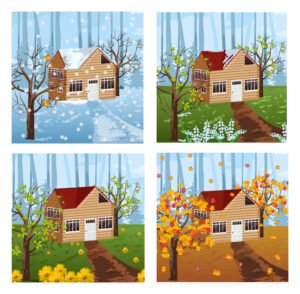 If you've been in the real estate market for a while, you know that business cycles and economic booms and busts can affect home prices and sales. But there's another big factor at play that can affect your property: seasonality.
Understanding how real estate values fluctuate during different seasons is crucial, as it can help you maximize your property's appeal and value throughout the year. Let's take a closer look at what seasonality is, and how you can boost sales and value even during slower seasons.
What is Seasonality in Real Estate and Why Does It Matter?
Seasonality in real estate refers to the natural fluctuations in the real estate market that occur at different times of the year. For example, you may have noticed that there's more demand for beachfront properties in the summer. Or that sales generally tend to slow down during the winter.
During winter and the holiday season in particular, demand tends to slow because people are unlikely to want to move. Aside from colder and more unpredictable weather, people are also dealing with end-of-year deadlines, family obligations, taking time off for the holidays, and more.
In the summer, on the other hand, real estate activity tends to increase. Families will often wait until the end of the school year when there's more free time to move, so they don't have to uproot their kids in the middle of the year.
In the chart below, you can see this ebb and flow play out with remarkable consistency. Total home sales (the dark blue line) tend to bottom around mid-late December, and peak in June and July: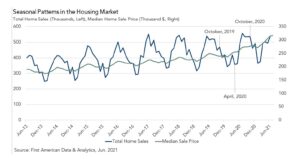 The chart confirms the findings of several other studies, which consistently find that summer is the busiest time of the year for moving. In fact, 80% of all moves in the United States occur between April and September. June and July in particular are two of the most active months for the housing market.
How Does Seasonality Affect Different Real Estate Markets?
Note that the points above simply illustrate general seasonal guidelines. Different geographical areas can experience different seasonal trends, so it's important to be conscious of where your property is located when considering the impact of seasonality. For example, while real estate activity may come to a halt in the northeast or the midwest during winter, it can actually accelerate in other markets, such as the sunbelt states.
Sunbelt real estate, which refers to properties located in warm, sunny climates, can experience different seasonality patterns compared to other regions. The sunbelt tends to be more active in the winter months when people from colder climates are looking to escape the cold weather. This can lead to increased demand and higher prices for sunbelt properties during the winter.
On the other hand, summer months in the sunbelt can be slower, as many people take vacations and the hot weather can make it less desirable to visit or move to the area. This can lead to a decrease in demand and a decrease in prices for sunbelt real estate during the summer.
Bottom Line
While seasonality will always affect real estate, there are still strategies you can use to maximize your property value during slower times of the year. Partnering with an experienced real estate firm for comprehensive marketing services is another way to ensure you're getting the most bang for your buck for your unique property. As the most experienced real estate auction company in the United States, J. P. King helps our sellers develop a comprehensive marketing plan to stand out during all seasons. Depending on your property and your goals, we'll utilize social media, direct mail, online marketing, and other strategies to reach a wide, engaged audience for your listing. Contact us today to learn more about how we can help.